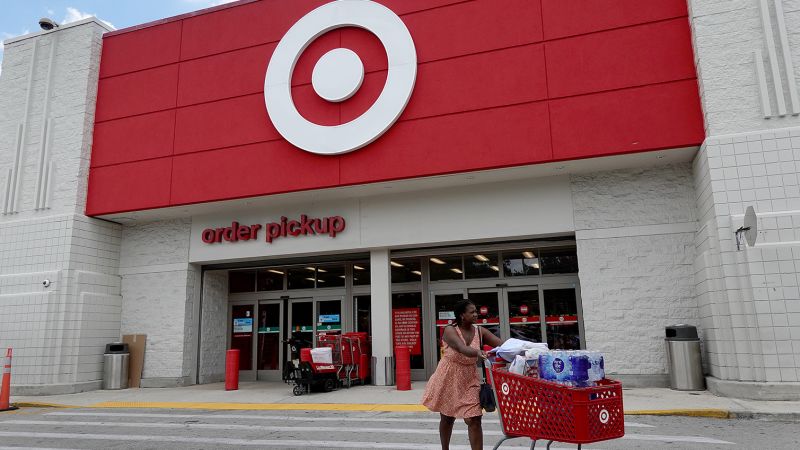 Joe Raedle/Getty Images
A large Target store on May 17, 2023 in North Miami Beach, Florida.
Target, which launched its Pride collection in early May, is pulling some products from its stores after facing backlash from customers saying it was acting to protect employee safety, the company told Reuters on Tuesday.
Target Corp (TGT) offers more than 2,000 products including apparel, books, music and home furnishings as part of its Pride Collection. Items include 'gender fluid' mugs, 'queer all year' calendars and books for children ages 2-8 titled 'Bye Bye, Binary', 'Pride 1,2,3' and 'I'm not a girl".
"Since introducing this year's collection, we have experienced threats affecting our team members' sense of safety and well-being at work," Target said in a statement.
"Given these volatile circumstances, we are making adjustments to our plans, including removing items that have been at the center of the most significant confrontational behaviors," the Minneapolis-based retailer said.
Target has celebrated Pride Month for over a decade. But this year's drive has led to an increase in clashes between customers and employees and incidents of Pride products being thrown on the floor, Target spokeswoman Kayla Castaneda said.
Target's action follows a conservative backlash against Bud Light, after brewer Anheuser-Busch promoted the beer on social media last month with transgender influencer Dylan Mulvaney.
Products that Target removes are being removed from all of its U.S. stores and its website, Castaneda said.
While various Pride Collection products are under review, the only ones currently removed are LGBTQ brand Abprallen, which has come under scrutiny for its association with British designer Eric Carnell.
Carnell has faced backlash on social media for designing merchandise with images of pentagrams, horned skulls and other Satanic merchandise.
A search for Abprallen products on Target.com on Tuesday showed "0" results.
Screenshots and social media posts show Target previously sold a $25 slogan sweater with the words 'cure transphobia, not trans people' and a 'too weird for here' tote bag at $18.
Target is also reviewing some transgender swimwear and children's products, Castaneda said, but no decisions on those products have yet been made.
For example, a swimsuit sold in the women's section came under scrutiny for the way its cut was described, as "tuck friendly", pointed to its ability to supposedly tuck in organs. male genitals.